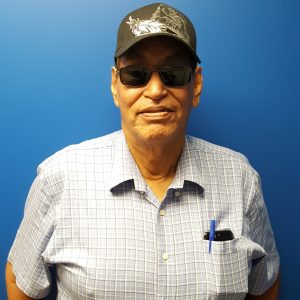 O'kee, nee-dah-nee-koo Peter Chief Calf. My first name was given to me at birth and my last name was most likely my great grandfather's name, "Nee-noh-niss-tah" (which, in English, means "Chief Calf"). My Blackfoot name is "Maa-noo-dah-nee-gup-pe" (which, in English, means "A New Young Man"). You may have noticed that I am spelling the Blackfoot language in more readable text.
I was born on September 24th, 1951 in the old Blood Indian Hospital located on the southern edge of the Blood Indian Reserve near Cardston, Alberta. My parents are Chris Strangling Wolf Sr. and Irene Isabella Chief Calf. I was the third youngest of three boys and one girl. We were raised by my grandparents, Albert and Mary Chief Calf, during my growing-up days on the northern edge of the Blood Reservation. My parents were employed with the Government of Canada and were working in the city of Edmonton during the early 1950s at the Charles Camsell Hospital. I have, on many occasions, wondered how we managed to survive, as my mother explained to me that she had to leave us children with her parents so that they could go make a living for their children. I would not see my parents for long periods of time; however, they would send money to my grandparents once a month for food and whatever was needed for our livelihood. My grandparents had many horses and cattle and we often lived off the land, picking berries. We picked various plants and herbs that my grandfather brewed together for many types of ailments. During the early 1950s, I recall seeing my grandmother packing her grub box with whatever food she could fit, along with a tent, some poles and blankets all packed into an old wagon and hitched to a team of horses. We set out to go visit relatives in Standoff for a few months until the annual Sundance, which begins during the summer of each year. That was probably the final time that I saw our old homestead. My grandparents eventually settled in Moses Lake.
In 1955, RCMP officers came to the house that we were staying at in Moses Lake. They packed up me and my two brothers, and we were taken out to St. Paul's Indian Residential School to begin learning the white man's language and their way of writing English. Although I learned the English language and how to write it, I never lost the first spoken language that I grew up with – which is Blackfoot. That was the only language spoken at my grandparents' home. Even though my grandmother was a half-breed woman, she never learned the English way of speaking. She never mentioned her Irish father, who was employed with the Indian Agency in the late 1800s, so I never did know anything about my Irish great-grandfather.
I stayed at the residential school for approximately five years. During that time, my mother transferred back down to the Reservation to work at St. Paul's school, which gave me the opportunity to see her most days. She had separated from my father while in Edmonton, so I never did really know my father growing up. My dad's name was Leo McHugh; he was the only father I knew growing up.
During the late 1960s and early 1970s, my mother remarried and we moved out to the centre part of the reserve near the St. Mary's Dam area. We continued our schooling in the town of Magrath, where I finished in 1968. After finishing school, I began working with the only person I knew as my father: he was a house builder for the tribe and also did quite a bit of farm and ranch work. We had some cattle and a few horses and we would take turns rounding the cattle up to feed and water, so I learned a bit of the cowboy life. Later in the years, my dad tried his hand at doing his own farming and we farmed about nine sections of land on the reserve. The big drought in the 1970s took its toll and my dad never recovered financially from that.
By that time, I had gotten married to a girl by the name of Pearline Heavy Runner. We had two boys and two girls, and we stayed together for a number of years. I continued working and also going to Lethbridge College to learn more of the building trade – doing all this while getting my kids into school. We also moved a few times to go work in various cities. I finally was offered a very good job with the Justice Department as liaison for the inmates in jail. I would also represent clients in court for the fact that I was fluent in Blackfoot and English, and many of my people did not understand the language the lawyers used with them.
During the next few years, I continued to do construction work for the Blood Tribe and, one day, I was offered employment to build some homes in a swank area of Portland, Oregon called Lake Oswaygo. Later, when I came back home, I enrolled at Red Crow College for my university entrance; however, I decided to continue working until I had enough funds to live on if I decided to enter university. It was during that time that I applied to Blood Tribe Social Development, where I worked until I retired in my sixties. I am now enjoying my retirement with a good pension and plenty of time to spend with my grown children and grandchildren.
Thank you for taking the time to read this short biography, and also for the opportunity to assist Carl Singer with audio recordings of the Blackfoot language.