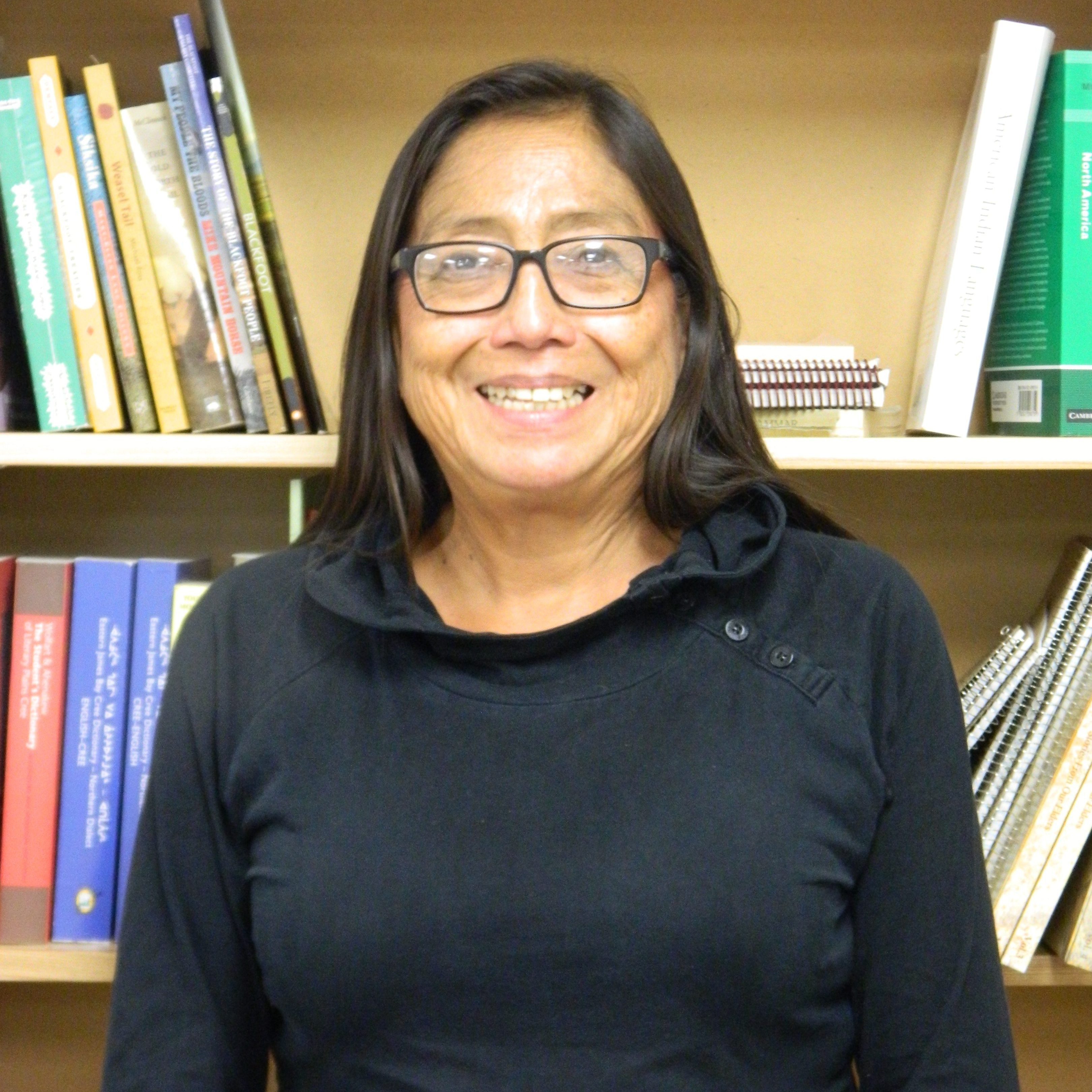 Okii. My name is Pauline Yellow Horn, my traditional name is Aakakiststa'akii Many offerings woman, and I am a member of the Piikani nation, Brocket, Alberta, Canada
I was born and raised on the Piikani Nation where both my parents were fluent in the Blackfoot language and I grew up hearing the Blackfoot language daily. My parents were very prominent in our community with their knowledge of Piikani values and traditions that had a big influence in my childhood. I understand the Blackfoot language fluently and I had been a fluent speaker before I started school, however now I have difficulty recalling how to say many of the words that I once knew.
I also understand that our language ties into our stories and way of life and it is for that reason that I am so adamant in preserving our language. I also feel that if we don't take action now, we may very well lose the Blackfoot language.
I was fortunate to have been chosen to be a part of The Blackfoot Digital Dictionary project where my role was that of a Blackfoot speaker: I assisted the team with the pronunciation and the orthography of the language. I have also provided a Piikani perspective into the project. I have had several sessions with Piikani fluent speakers in the recording for the Linguistic Atlas Template to detect, if any, the unique Piikani dialect. With the Atlas project, I worked on the Audacity audio clips and the translations of the Atlas project. I worked on the Traditional Values theme for the dictionary. In addition to my traditional knowledge, I also have my Bachelor of Arts Degree from the University of Lethbridge with a Major in Native American Studies.
I have learned and gained a huge amount of experience working on this project and have made some lifelong friends who have shared their knowledge and expertise with me that I will keep dear to my heart.
July 2022: Pauline worked in the Blackfoot Language Resources lab in 2016. She was a very important member of our first summer team, and we all learned so much from her. She later went on to work for the Piikani Board of Education. Pauline has since passed away. We are grateful to have known her and to preserve her work on our website. (Inge Genee)