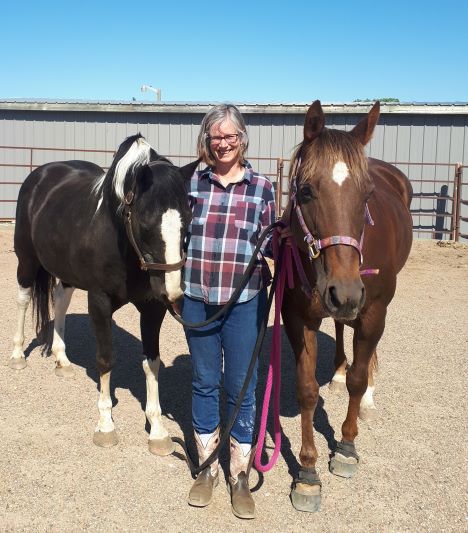 Oki nikso'kowaiksi, nistoannakaoki Piitaakii.My name is Inge Genee, and my Blackfoot name is Piitaakii. I am the director of the Blackfoot Language Resources project that produces this website. I am originally from the Netherlands. All my family still lives there, except for my husband Dan and our two children Bouke and Kaatje. We came to Lethbridge in 1997. When I am not working I like to hang out with my horse.
I am a linguist with degrees in Dutch language and literature and in Linguistics from the University of Amsterdam. I began to work on Niitsi'powahsin (the Blackfoot language) after our move to Alberta. What a fantastic language! I wish I was able to be more fluent in it than I am…
I have done theoretical and descriptive work, but more recently my work is all about supporting sustainability and revitalization of the language. This website is part of that work. It began by digitizing the database from Don Frantz and Norma Russel's Blackfoot Dictionary of Stems, Roots and Affixes (University of Toronto Press, 2017). Then we added audio and images. This is a never-ending project that will probably never be finished, but we keep working on it! Our website now also hosts a story archive, grammar and resource pages, and lessons. My current project aims to better incorporate dialect variation into all our materials.
I am grateful to everyone whose name appears on this Contributors page for their work to support the Blackfoot Language Resources projects, and to the Social Sciences and Humanities Research Council of Canada (SSHRC) for two substantial Insight Grants that allow me to hire Blackfoot consultants, speakers, students and research assistants to help with the work.
You can see more about me on my Iniskim (University of Lethbridge) profile page here .