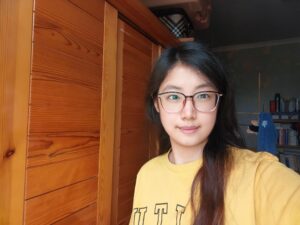 Oki! My name is Haibei Wang. I'm a Linguistics major student at Shanghai Jiao Tong University. Now I work in the Blackfoot Language Resources project as a Mitacs intern under the instruction of Professor Inge Genee.
I chose to work on this project because I have always been interested in the preservation of languages and the culture they carry. I also want to know what specific things I can do for the endangered languages: the extinction of minority languages is a very serious issue in China as well. After joining this team I was struck by the human concern behind the project. I learned about the experiences of indigenous people in Canada, about the contributions many people have made to education, political rights, language, and culture of indigenous people, and heard some Blackfoot friends tell their stories. These are very precious memories for me.
The work I have done so far includes an environmental scan checking of the construction of indigenous language discipline in Canada, some annotation of bibliographies on Canada's Truth and Reconciliation Commission, interviews transcription, Blackfoot recordings editing, and so on. As a linguistics student, I can feel how ingenious the Blackfoot language is. Its pronunciation and word formation are different from the language I am familiar with but have a unique charm. I also learned a little bit of Blackfoot for everyday conversation, which is quite amazing to me.
Language is a bridge that connects us with others. And, the language of one's own is the most wonderful gift people can receive in life. So, I can deeply understand the importance of the Blackfoot language to Blackfoot people. I am very happy to work with people who are committed to the sustainability and revitalization of Blackfoot. I hope I can make a real contribution to the preservation of Blackfoot, and I hope that projects like this can work around the world for other endangered languages.