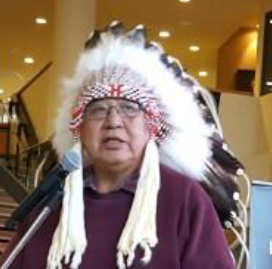 Francis First Charger / Ninnaisipistoo ("Owl Chief") is Elder Advisor in Residence for the Blackfoot Language Resources projects at Iniskim (University of Lethbridge).
Francis is the proud father of two children and a daughter-in-law. Francis and his wife, Judy First Charger have been together since 1977. They have four grandchildren, many traditional children and spiritual children too many to list. Judy serves as administrative assistant for their own consultant business.
Francis First Charger was born and raised on the Kainai First Nation (Blood Indian Reserve). He was raised in the traditional, cultural and spiritual ways of the Blackfoot people. He has six diplomas in agricultural and several letters of recognition and a certificate in management and financial accounting. He has been a Chief Electoral Officer (CEO) for three tribal elections including the past 2016 elections, Blood Tribe Health Board Election in 2014, 2017 & 2019 and also for the 2005 and 2018 Kainai Board of Education elections.
Mr. First Charger has managed his own advisory and consultant services since 1994. He has been employed in some major projects such as the General Manager of the Blood Tribe Agricultural Project (BTAP), a $ 66.5 million dollar project. He was one of the people instrumental for coordinating the Japanese export of Timothy hay – eventually an annual $6.5 million dollar industry. He held the position of General Manager of Alberta Indian Agricultural Development Corporation (AIADC) when he was only 32 years old, an unprecedented feat being the youngest general manager of that company at the time.
On April 19, 2013 Francis First Charger / Ninnaisipistoo ("Owl Chief") (Agricultural Technology, '82) received the top award of Distinguished Alumnus from the Lethbridge College. In 2010 he was awarded the Life Time Achievement Award presented by the Aboriginal Council of Lethbridge. He successfully coordinated the "First Nations' Land Use Certificate Program" with 12 graduates from the RCCC program (June 26, 2004). "This certificate was entitled first of its kind by a National Edge Magazine. Eleven of the graduates were immediately placed within the industry." These are only a few of the many accomplishments First Charger holds.
He is an accomplished traveler, having seen the world from many different angles. His corporate and cultural travels have brought him to Japan, three times on BTAP business, and to such places as Italy to speak as a guest lecturer. International work for the Kainai/Blood Tribe, in the US for a special agricultural project and to Guatemala for Red Crow Community College.
Mr. First Charger has served on many committees in the past 20 years including on Aboriginal Council of Lethbridge, the National First Nation's Forestry Program and a Kainai First Nation/Blood Tribe steering committee for an economic impact study. He was the special advisor to the former Lethbridge College President, Tracy Edwards.
Presently, Mr. First Charger serves on several committees, including U of L's GFC Iniskim Education Committee & Indigenous Advisory Circle and on the Elder Committee and Board of Director for Opokaa'sin. He works for the University of Lethbridge – Dhillon School of Business since September, 2008, having served as the Elder in Residence to provide counseling and advisory services to the Students, Faculty and Management. Also occasionally he provides Public Relation, Class Lectures and a host to the many visitors to the University. In 2019, Mr. First Charger received a 10 year recognition certificate from the U of L.
Ninnaisipistoo / Owl Chief provides advisory services to various organization, on Blackfoot Cultural Sensitive Workshops also on /off reserve Corporations on: International Relations, Cultural, Academic Course Developments, Agriculture, Project Development and Implementation, as a cultural advisor and Public Relation for various causes.