We now have our own Blackfoot Language Resources YouTube channel! We just posted two short videos explaining the Blackfoot vowel and consonant sounds and how they are written in the standard spelling system.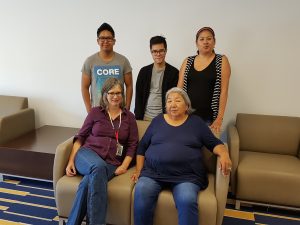 Oki! Today we worked very hard with Beverly Hungry Wolf. We recorded words, short sentences, and some procedural texts and recipes. The team now has to process the audio files and then we hope to have them up on our dictionary and story archive soon. For an example of a phrase we recorded last week look up the verb say in the dictionary, and check out the example Tsá niitáíítsitapiáánio'pa? ("How do you say it in Blackfoot?").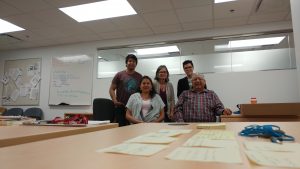 Today Francis First Charger came to visit our lab to provide some much-needed encouragement and guidance. Francis is one of the resident elders at the University of Lethbridge, and was able to make some time to come downtown to see our lab, even though he is a very busy man! We were very grateful for his prayers and support. Our work is sometimes tough and has some difficult moments and things that we have to work through. We have become a good team over the last little while and the team members really support and help each other with anything that's needed. It was very good to have some advice and encouragement from Francis today.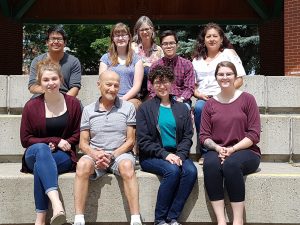 This year we are again lucky to have a large number of people helping with the Blackfoot Language Resources website. Front row L-R: Brittany Wichers, Don Frantz, Natalie Weber, Shelby Johnson. Middle row L-R: Blaise Russell, Mahaliah Peddle, Inge Genee, Myles Shirakawa, Rachel Hoof. Not pictured: Amanda Thom and Dan O'Donnell. We took this picture on a beautiful afternoon in the Galt Gardens park in Lethbridge.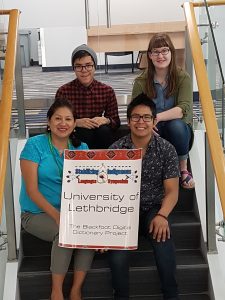 Oki! Last year's wonderful team did an enormous amount of work on our Blackfoot Digital Dictionary and Blackfoot Language Resources website and also for the Algonquian Linguistic Atlas. This year's team promises to be just as wonderful. Working hard are SSHRC summer students Myles Shirakawa and Mahaliah Peddle and STEP summer students Blaise Russell and Rachel Hoof. Their first tasks are to process all the material that was collected by last year's team and never made its way onto the website yet. New audio files and images are being added daily to the dictionary. Check out the word for airplane: áípottaa for a cool example!
Welcome to the Blackfoot Digital Dictionary project. You can find our dictionary at http://dictionary.blackfoot.atlas-ling.ca. Send comments to inge.genee@uleth.ca.
This is very much a work in progress. It changes every day as we continue to make updates, corrections and addition. It is now May 8 2017 and we are getting ready to do some more work on it this summer. The first research assistant who is starting this year is Mahaliah Peddle. Welcome Mahaliah!